Gridpro AB
Rev: 2.10.7509 (SCSM 2012 versions) & 3.0.7509 (SCSM 2016 & later)
Published: August 2020
Create Incident
Click Work Items tab
Click Incident Management
In the right-side task menu click Create Incident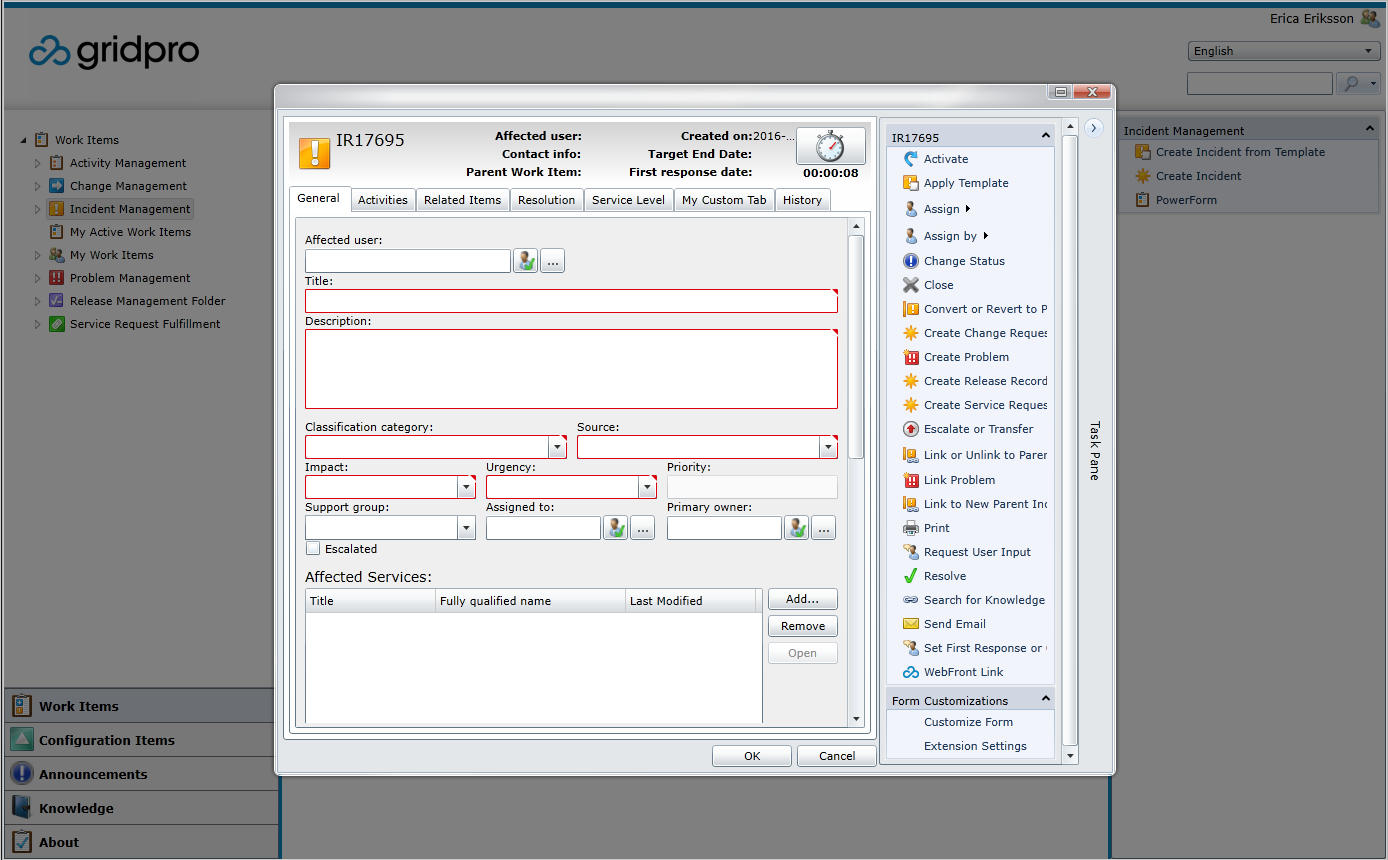 Fill out the form and click OK to save Incident
Edit Incident
Click Work Items tab
Click Incident Management
In the middle-pane select the Incident that you want to edit
In the right-side task menu click Edit
Or
Double-click Incident
Edit data in form and click OK to save changes
Resolve Incident
Click Work Items tab
Click Incident Management
In the middle-pane select the Incident that you want to resolve
In the right-side task menu click Change Incident Status – Resolve
Select a Resolution Category and type in a Comment, then click OK
Click OK to close form and save changes
Assign Incident
Click Work Items tab
Click Incident Management
In the middle-pane select the Incident that you want to assign
In the right-side task menu click Assign – Assign to Me or Assign – Assign to Analyst
If you selected Assign to Me, click OK to close form and save changes
If you selected Assign to Analyst, use search function to find an analyst
Select analyst and click OK, click OK again to close form and save changes
Add Comment to Incident
Click Work Items tab
Click Incident Management
In the middle-pane select the Incident that you want to edit
In the right-side task menu click Edit
Or
Double-click Incident
Type in an Action Log message and click Add
Click OK to close form and save comment
Create Change Request
Click Work Items tab
Click Change Management
In the right-side task menu click Create Change Request
Select a Template and click OK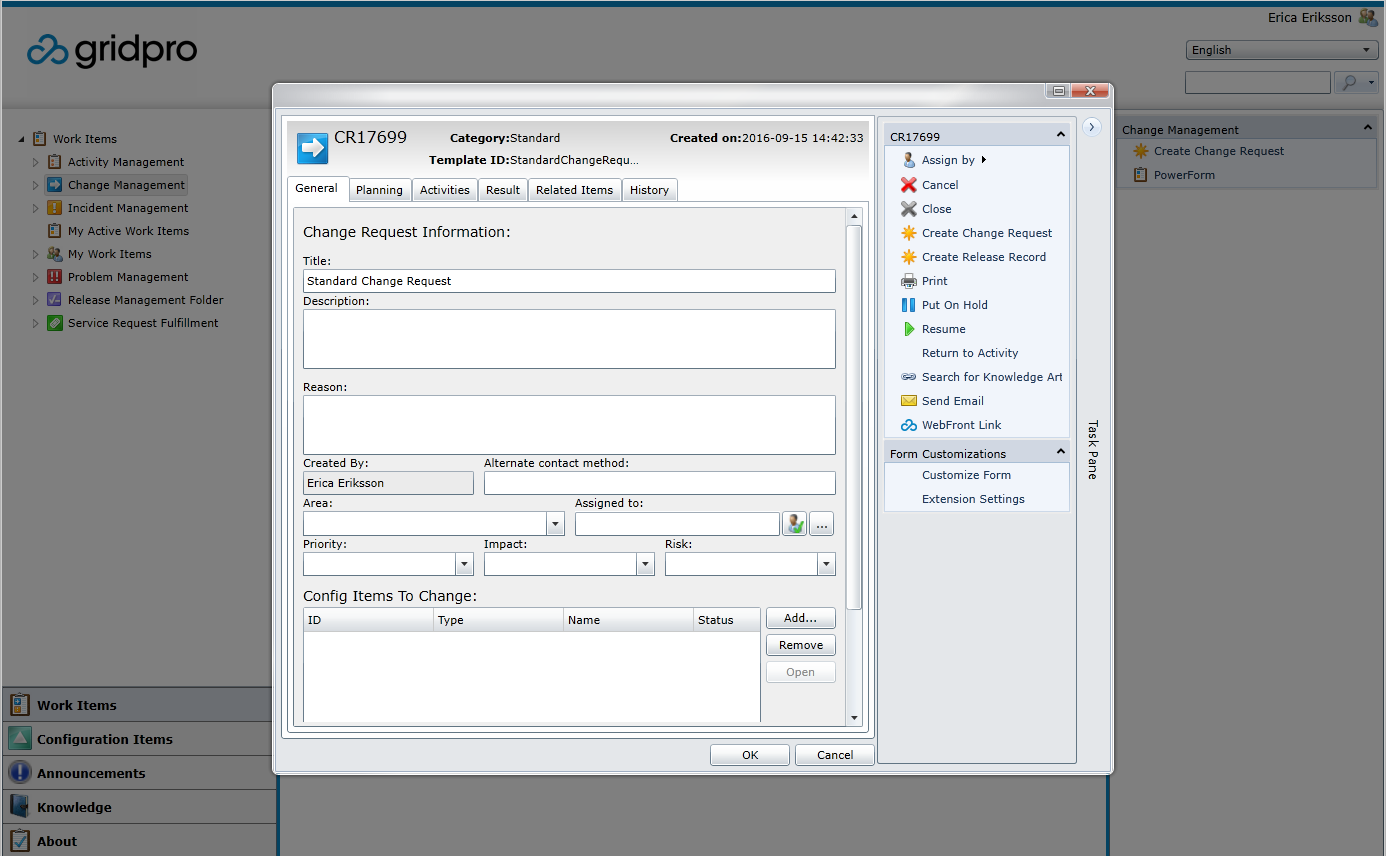 Fill out the form and click OK to save Change Request
Put Change Request on hold
Click Work Items tab
Click Change Management
In the middle-pane select the Change Request that you want to put on hold
In the right-side task menu click Put On Hold or double-click Change Request and click Put On Hold in form task menu
Type in a Comment and click OK
Click OK to close form and save

Resume Change Request
Click Work Items tab
Click Change Management
In the middle-pane select the Change Request that you want to resume
In the right-side task menu click Resume or double-click Change Request and click Resume in form task menu
Type in a Comment and click OK
Click OK to close form and save
Cancel Change Request

Click Work Items tab

Click Change Management

In the middle-pane select the Change Request that you want to cancel
In the right-side task menu click Cancel or double-click Change Request and click Cancel in form task menu
Type in a Comment and click OK
Click OK to close form and save
Close Change Request
Click Work Items tab
Click Change Management
In the middle-pane select the Change Request that you want to close
In the right-side task menu click Close or double-click Change Request and click Close in form task menu
Type in a Comment and click OK
Click OK to close form and save
Create Service Request
Click Work Items tab
Click Service Request Fulfillment
In the right-side task menu click Create Service Request
Select a Request Offering and click OK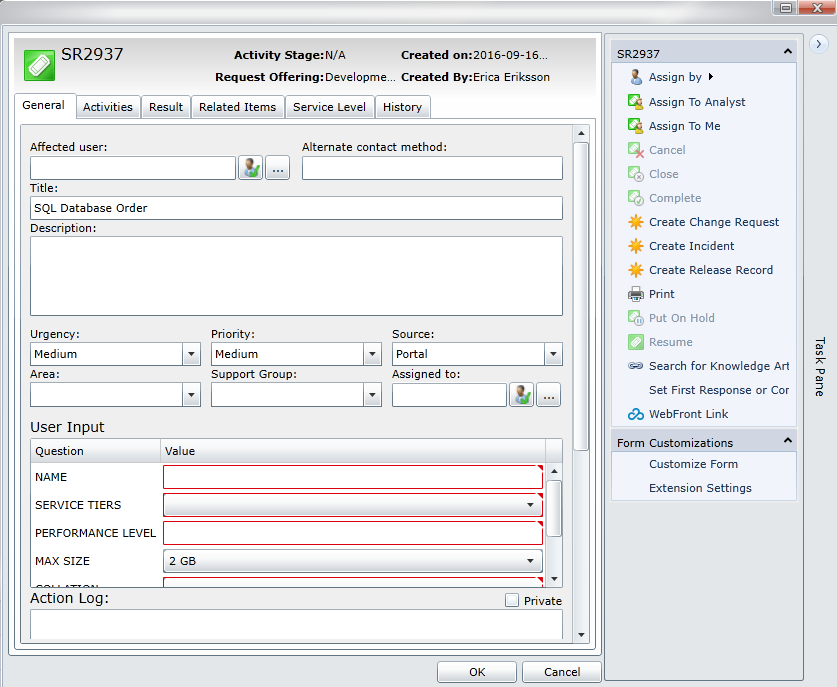 Complete the form and click OK to submit Service Request
Create Service Request from Template
Click Work Items tab
Click Service Request Fulfillment
In the right-side task menu click
Create Service Request from Template
Select a Template and click OK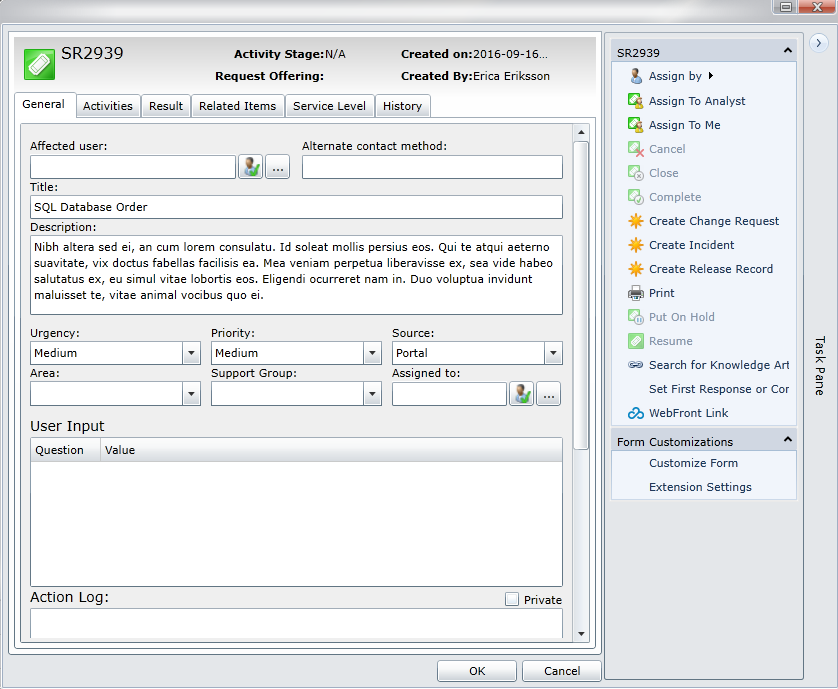 Complete the form and click OK to submit Service Request
Put Service Request on hold
Click Work Items tab
Click Service Request Fulfillment
In the middle-pane select the Service Request that you want to put on hold
In the right-side task menu click Put On Hold or double-click Service Request and click Put On Hold in form task menu
Type in a Comment and click OK
Click OK to close form and save

Resume Service Request
Click Work Items tab
Click Service Request Fulfillment
In the middle-pane select the Service Request that you want to resume
In the right-side task menu click Resume or double-click Service Request and click Resume in form task menu
Type in a Comment and click OK
Click OK to close form and save
Cancel Service Request
Click Work Items tab
Click Service Request Fulfillment
In the middle-pane select the Service Request that you want to cancel
In the right-side task menu click Cancel or double-click Service Request and click Cancel in form task menu
Type in a Comment and click OK
Click OK to close form and save
Approve Review Activities
Click Work Items tab
Click Activity Management
In the middle-pane select the Review Activity that you want to approve
In the right-side task menu click Approve or double-click Review Activity and click Approve in form task menu
Type in a Comment and click OK
Click OK to close form and save
Reject Review Activities
Click Work Items tab
Click Activity Management
In the middle-pane select the Review Activity that you want to reject
In the right-side task menu click Reject or double-click Review Activity and click Reject in form task menu
Type in a Comment and click OK
Click OK to close form and save
Mark Manual Activities as Completed
Click Work Items tab
Click Activity Management
In the middle-pane select the Manual Activity that you want to approve
In the right-side task menu click Mark as Completed or double-click Review Activity and click Mark as Completed in form task menu
Type in a Comment and click OK
Click OK to close form and save
Mark Manual Activities as Failed
Click Work Items tab
Click Activity Management
In the middle-pane select the Manual Activity that you want to mark as failed
In the right-side task menu click Mark as Failed or double-click Review Activity and click Mark as Failed in form task menu
Type in a Comment and click OK
Click OK to close form and save
Other
Auto Refresh View
You can instruct WebFront to auto refresh views every minute, this can be very useful when you need to monitor a certain view for incoming work items.
Open any work item- or configuration item view in WebFront
Right click the view and select Start auto refresh
NOTE: The next time you change view WebFront will automatically stop the auto refresh cycle. If you want to stop it without having to change view, just right click the view and select Stop auto refresh.